Psychopharmacology and the search of new drugs - A. Nikiforuk
---

5-HT5A receptor ligands and the symptoms of schizophrenia

Besides positive and negative symptoms, cognitive deficits are increasingly recognized as a core feature of schizophrenia. These impairments may appear prior to the onset of psychosis and continue to be present after remission. Importantly, neurocognitive impairment is strongly associated with functional outcomes (e.g. social functioning and independent living skills).
Available antipsychotic drugs are effective in reducing hallucinations and delusions (i.e. positive symptoms). However, their efficacy against the negative symptoms and cognitive deficits remain inadequate. Thus, there is an urgent need to develop novel pharmacotherapies that can effectively treat these dysfunctions. Serotonergic (5-HT) system represents promising targets for the development of novel multireceptor or stand-alone antipsychotic drugs with a potential to ameliorate cognitive impairments and negative symptoms in schizophrenia. The 5-HT5 receptor is still one of the least characterized subtypes among the serotonin receptor family. Recent experimental data suggest the cognitive-enhancing activity of the strategy based on this receptor.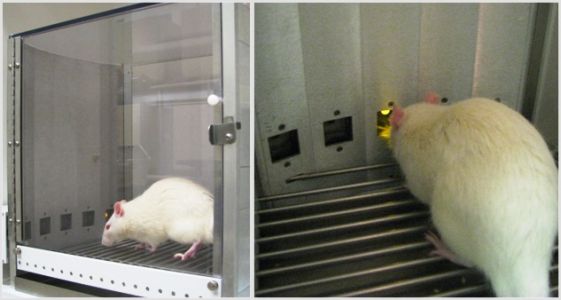 Photo: The apparatus used for measuring attention in rodents.


The aim of the present study was to evaluate pro-cognitive and pro-social efficacies of the 5-HT5A receptor antagonist in a rat pharmacological model of schizophrenia employing the administration of the NMDA receptor antagonist, ketamine.
The administration of NMDAR antagonists evokes a broad range of schizophrenia-like disturbances, including not only psychotic-like behaviours but also negative symptoms and cognitive deficits. Therefore, NMDAR-based models are commonly used to mimic schizophrenia-like states in laboratory animals and to identify possible treatments for this disorder. The 5-HT5A receptor antagonist SB-699551 reversed ketamine-induced deficits of visual recognition memory and executive functions in rats. The compound also facilitated cognitive processes in cognitively unimpaired control animals. Moreover, SB-699551 was effective against ketamine-induced social withdrawal, a model of negative-like symptoms of schizophrenia.
We suggest that the strategy based on the blockade of 5-HT5A receptors may be a promising approach in treating cognitive deficits and negative symptoms of schizophrenia.
Agnieszka Nikiforuk, Associate Professor

Institute of Pharmacology of the Polish Academy of Sciences

Department of Behavioral Neuroscience & Drug Development

www: http://if-pan.krakow.pl/pl/zaklady/zaklad-badan-nowych-lekow/

e-mail: nikifor@if-pan.krakow.pl

Source:
NIKIFORUK A, HOŁUJ M, KOS T, POPIK P. The effects of a 5-HT5A receptor antagonist in a ketamine-based rat model of cognitive dysfunction and the negative symptoms of schizophrenia.
Files to download