Chronic pain and gene expression
---
The influence of kynurenine 3-monooxygenase enzyme inhibition on neuropathic pain
Rojewska E, Piotrowska A, Makuch W, Przewlocka B, Mika J.
Department of Pain Pharmacology, Institute of Pharmacology Polish Academy of Sciences, Krakow, Poland
Studies involving gene expression profiling and mass spectrometry suggest that neuropathic pain is associated with a strong activation of certain neuronal genes, as well as genes associated with immune cell responses including microglial activation. Studies published in Molecular Pain in 2014 enabled us to identify the genes whose expression changes after sciatic nerve injury and after multiple intraperitoneal minocycline administrations in this model.
DNA microarray methods showed changes in the activity of the enzymes and products of kynurenine pathway in the lumbar spinal cord in neuropathic pain model. The next step of our study was to select gene expression changes induced by chronic constriction injury (CCI) of the sciatic nerve that are modulated by minocycline, which can effectively diminish neuropathic pain in animal studies. One of these genes - KMO (kynurenine 3-monooxygenase - kynurenine pathway enzyme) has become the subject of further research, and its changes on the mRNA level after the injury were confirmed by qRT-PCR and western blot, and additionally they were demonstrated in dorsal root ganglia (DRG).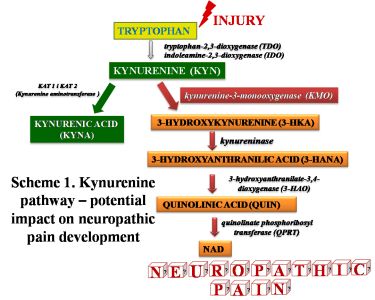 Our primary glial cells culture indicate that minocycline reverses LPS-induced microglial activation and decreases Kmo mRNA expression in primary microglial cells. Our results [1] show that both Kmo inhibitors (Ro61-6048 and JM6) diminish the symptoms of neuropathic pain after sciatic nerve injury and enhance the effectiveness of morphine in a neuropathic pain model. Our biochemical studies show that seven days after sciatic nerve injury, repeated Ro61-6048 administrations reduce the microglia/macrophages activation in the spinal cord and DRG. Furthermore, the mRNA and protein levels of pronociceptive factors in the spinal cord (i.e., IL-6 and NOS2) and DRG (i.e., IL-1beta, IL-6 and NOS2) were reduced after Ro61-6048 treatment. As our data show, the modulation of Kmo enzyme can significantly influence nociceptive processes (Scheme 1), exhibit neuroprotective effects, and increase opioid efficacy. These results will also allow us to recognize a wide spectrum of tryptophan metabolites belonging to kynurenine pathway, what is the subject of grant SONATA 9 2015/17/D/NZ4/02284.
Joanna Mika Phd
Department of Pharmacology of Pain
www: http://if-pan.krakow.pl/en/departments/department-of-pharmacology-of-pain/
e-mail: joamika@if-pan.krakow.pl

Acknowledgments: Supported by the National Science Centre, Poland grant Harmonia 5 2013/10/M/NZ4/00261, grant SONATA 9 2015/17/D/NZ4/02284 and by Institute of Pharmacology statutory funds. E. Rojewska received START scholarship sponsored by the Foundation of Polish Science, Poland. A. Piotrowska received KNOW scholarship sponsored by the Ministry of Science and Higher Education, Poland.
Source:

1: Rojewska E, Piotrowska A, Makuch W, Przewlocka B, Mika J. Pharmacological kynurenine 3-monooxygenase enzyme inhibition significantly reduces neuropathic pain in a rat model. Neuropharmacology. 2016 Mar;102:80-91. doi: 10.1016/j.neuropharm.2015.10.040. Epub 2015 Oct 31. PubMed PMID: 26524415.
Files to download