Antivirals in the management of neuropathic pain
---
The influence of maraviroc on neuropathic pain, opioid effectiveness and changes in the level of endogenous chemokines
Kwiatkowski K, Piotrowska A, Rojewska E, Makuch W, Jurga A, Slusarczyk J, Trojan E, Basta-Kaim A, Mika J
Department of Pain Pharmacology, Institute of Pharmacology Polish Academy of Sciences, Krakow, Poland
Neuropathic pain induced by nervous system damage affects increasing number of patients and significantly decreases the quality of their life. Conventional analgesics, especially opioids, have poor efficiency and produce a plethora of undesired side effects. Therefore, it is important to find a new, effective and long-term therapy suitable for patients suffering from neuropathic pain.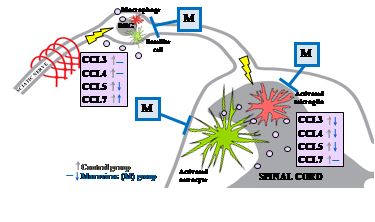 Fig. 1 The influence of maraviroc (M) on neuroimmunological changes in spinal cord and DRG under neuropathic pain

Recent studies suggest that interactions between neurons, glia and immune cells, mediated by proinflammatory factors such as cytokines, play a crucial role in neuropathic pain development. Furthermore, recent evidence suggest that chemokines are imperative in mediating neuropathic pain. Previous studies point to the involvement of CC chemokine ligand 5 (CCL5) in neuropathic pain development and maintenance. Thus, we were focused on investigating the influence of repeated administration of selective CC chemokine receptor 5 (CCR5) antagonist, namely maraviroc, on neuropathic pain-related behaviors, opioid effectiveness and associated biochemical changes in neuropathy. Maraviroc is an antiretroviral drug approved by the Food and Drug Administration for HIV infection treatment. In our experiments we used chronic constriction injury (CCI) model of neuropathic pain in rats. Maraviroc was administered intrathecally twice before CCI operation, and then once a day over next 7 days. Our results [1] demonstrated that pretreatment and repeated injections of maraviroc attenuate neuropathic pain symptoms 7 days after sciatic nerve injury in rats. Biochemical analysis revealed that maraviroc prevents the activation of microglia and astrocytes in central nervous system induced by sciatic nerve injury.
Our in vitro studies showed that these cells, once activated, are the main source of pronociceptive chemokines. We also demonstrated that the levels of CCL3, CCL4, CCL5 and CCL7 are increased in the spinal cord and dorsal root ganglia (DRG) after the nerve injury. Interestingly, maraviroc effectively diminished CCI-elevated levels of CCL3, CCL4 and CCL5 in the spinal cord and the level of CCL5 in DRG (Fig. 1). Furthermore, our behavioral experiments provided new evidence that maraviroc not only attenuates the development of neuropathic pain symptoms but also enhances the analgesic properties of morphine and buprenorphine. Thus, we hypothesize that CCR5 chemokine receptor might be an interesting target for creating a new therapy for patients suffering from neuropathic pain, which may exert beneficial influence on effectiveness of conventional opioid analgesics.
Joanna Mika Phd
Department of Pharmacology of Pain
www: http://if-pan.krakow.pl/en/departments/department-of-pharmacology-of-pain/
e-mail: joamika@if-pan.krakow.pl

Acknowledgments: Supported by the National Science Centre, Poland grant OPUS NCN2011/03/B/NZ4/00042 and statutory funds of the Institute of Pharmacology, Polish Academy of Sciences. Jurga A., Slusarczyk J. and Trojan E. are Ph.D. students funded by KNOW scholarship sponsored by the Ministry of Science and Higher Education, Poland.

Source:

1: Kwiatkowski K, Piotrowska A, Rojewska E, Makuch W, Jurga A, Slusarczyk J, Trojan E, Basta-Kaim A, Mika J. Beneficial properties of maraviroc on neuropathic pain development and opioid effectiveness in rats. Prog Neuropsychopharmacol Biol Psychiatry. 2016 Jan 4;64:68-78. doi: 10.1016/j.pnpbp.2015.07.005. Epub 2015 Jul 16. PubMed PMID: 26190414.
Files to download