Danuta Jantas, PhD
---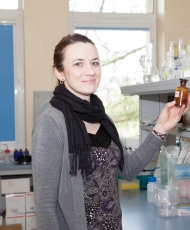 My research interests are mainly focused on cellular models of neurodegeneration and neuroprotection. In addition to searching for intracellular mechanisms of action of clinically used drugs, I am also interested in investigating new synthetic or natural compounds with neuroprotective or anticancer activities.

Aneta Fraczek-Szczypta, Danuta Jantas, Filip Ciepiela, Justyna Grzonka. Graphene oxide-conductive polymer nanocomposite coatings obtained by the EPD method as substrates for neurite outgrowth. Diamond & Related Materials 102 (2020) 107663.




Marek Piotrowski, Danuta Jantas, Monika Leśkiewicz, Krzysztof Szczepanowicz, Piotr Warszyński, Władysław Lasoń. Polyelectrolyte-coated nanocapsules containing cyclosporine A protect neuronal-like cells against oxidative stress-induced cell damage. Colloids and Surfaces A: Physicochemical and Engineering Aspects Volume 555, 20 October 2018, Pages 264-269.




Aneta Fraczek-Szczypta, Danuta Jantas, Filip Ciepiela, Justyna Grzonka, Andrzej Bernasike, Mateusz Marzec. Carbon nanomaterials coatings – Properties and influence on nerve cells response. Diamond and Related Materials Volume 84, April 2018, Pages 127–140.




M. Szczęch, K. Szczepanowicz, D. Jantas, M. Piotrowski, A. Kida, W. Lasoń, P. Warszyński. Neuroprotective action of undecylenic acid (UDA) encapsulated into PCL nanocarriers. Colloids and Surfaces A 532 (2017) 41–47.

Marek Piotrowski, Krzysztof Szczepanowicz, Danuta Jantas, Monika Leskiewicz, Władysław Lason, Piotr Warszynski. Emulsion-core and polyelectrolyte-shell nanocapsules: biocompatibility and neuroprotection against SH-SY5Y cells. J Nanopart Res (2013) 15:1-12.




Gręda A., Jantas D. Dysfunkcje mitochondriów w chorobach neurodegeneracyjnych: potencjalny punkt uchwytu dla leków neuroprotekcyjnych. Postępy Biologii Komórki, TOM 39 2012 NR 3 (321–344). Review in Polish.




Danuta Jantas. Thyreoliberin (TRH) – the regulatory neuropeptide of CNS homeostasis. Advances in Cell Biology 2010, 2:138-152.




Jantas D. Cell-Based Systems of Depression: An Overview. In: Herbal Medicine in Depression. Ed. Clara Grosso. Springer, Switzerland 2016, p. 75-117. DOI 10.1007/978-3-319-14021-6.

Lasoń W., Jantas D. Rola epigenetyki w mechanizmach i leczeniu padaczki (The role of epigenetics in pathomechanisms and epilepsy treatment). Article In Polish. Epileptologia 2009, 17:113-122.

Jantas-Skotniczna D. Estrogeny – nie tylko hormony płciowe (Rola estrogenów w Ośrodkowym Układzie Nerwowym). [Estrogens – not only sexual hormons (The role of estrogens In Central Nervous System)]. Wszechświat, 2004; 105: 191-194. Review. Polish.

Jantas-Skotniczna D. ALS – cichy zabójca (Nasze szanse w walce ze stwardnieniem bocznym zanikowym). [ALS – the sileni killer (Our chances to combat Amyotropic Lateral Sclerosis)]. Wszechświat, 2006; 107: 31-33. Review. Polish.
The study on the role of metabotropic glutamate receptor subtype 8 (mGluR8) in cancer cells - potential target for new anticancer drugs. - 2013-02-11 - 2015-12-10


Grant NCN OPUS 3 2012/05/B/NZ3/00452; Principial Investigator

The study on the neuroprotective potential of metabotropic glutamate group II and III receptors in in vitro and in vivo apoptosis models. - 2010-03-12 - 2013-09-11


Grant KBN nr N N405 611638; Principial Investigator
2009 - Young Investigator Award, Neuropeptides Festival, Salzburg, Austria.


0000-00-00
National
Instytut Katalizy i Fizykochemii Powierzchni PAN
Katedra Technologii i Biotechnologii Środków Leczniczych, Wydział Farmaceutyczny Collegium Medicum UJ
Wydział Inżynierii Materiałowej i Ceramiki, Katedra Biomateriałów i Kompozytów, AGH