Prof. dr hab. Jadwiga Wardas
---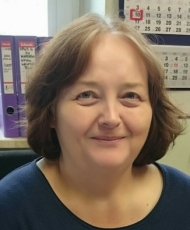 Stanowisko
Kierownik zakładu
Ukończyłam Wydział Biologii i Nauk o Ziemi na Uniwersytecie Jagiellońskim w Krakowie, następnie uzyskałam stopień doktora nauk przyrodniczych (1991) i doktora habilitowanego nauk medycznych (2004) w Instytucie Farmakologii Polskiej Akademii Nauk w Krakowie. Tytuł naukowy profesora nauk medycznych został mi nadany decyzją Prezydenta RP z dnia 5 lutego 2019.
Od 2018 byłam zatrudniona na stanowisku profesora nadzwyczajnego w Zakładzie Neuropsychofarmakologii IF PAN. Natomiast od 2019 jestem kierownikiem Zakładu Neuropsychofarmakologii Instytutu Farmakologii im J.Maja PAN oraz od 1.08.2019 jestem zatrudniona na stanowisku profesora w tym instytucie.

W 1988 roku otrzymałam stypendium National Academy of Sciences, USA i przebywałam w Klinice Neurologii, Jefferson Medical College w Filadelfii a następnie w Zakładzie Farmakologii, Georgetown University Medical Center w Waszyngtonie (USA). W 1993 roku uzyskałam stypendium EC i przebywałam 3 m-ce na Uniwersytecie w Cagliari (Włochy) w laboratorium prof. M. Morelli co rozpoczęło moją długoletnią współpracę z tym ośrodkiem, w ramach projektów międzyrządowych na współpracę polsko-włoską lub współpracy nieformalnej. Wynikiem tych badań są liczne wspólne publikacje naukowe, zarówno oryginalne jak też przeglądowe (10) i wspólna książka, w której jestem współedytorem i współautorem rozdziału (2015).
Ponadto, w latach 1994-2005 uczestniczyłam w badaniach prowadzonych we współpracy z Dept. Neuropsychopharmacology, Free University of Berlin, (Niemcy) oraz wspólnych projektach badawczych.
Uczestniczyłam także jako główny wykonawca lub wykonawca w licznych projektach badawczych finansowanych przez KBN i MNiSW a także byłam kierownikiem 3 projektów KBN, MNiSW oraz NCN.
Moje zainteresowania naukowe są skoncentrowane na badaniu patomechanizmów chorób neurodegeneracyjnych, w tym głównie choroby Parkinsona, w modelach doświadczalnych. Od wielu lat zajmuję się także udziałem receptorów adenozynowych i dopaminowych w mechanizmie i leczeniu objawów tej choroby jak też w działaniu neuroprotekcyjnym.
Grupa badawcza w której byłam kierownikiem (2004) lub pracownikiem (1989, 2017) została nagrodzona przez Wydział Nauk Medycznych Polskiej Akademii Nauk, otrzymałam także Srebrny Krzyż Zasługi (2004).
Jestem członkiem Polskiego Towarzystwa Badań Układu Nerwowego (PTBUN) i FENS.
Jestem autorką ok 70 oryginalnych publikacji w międzynarodowych czasopismach oraz 115 abstraktów zjazdowych; Suma Ilości Cytowań bez samocytowań = 1723 na dzień 4.12.2018, zgodnie z ISI Web of Science). Index H = 24,
Control of Motor Function by Adenosine A2A Receptors in Parkinson's and Huntington's Disease

rozdział w książce:

Pinna A., Wardas J., Domenici M. R., Popoli P., Cossu G. and Morelli M. "Control of Motor Function by Adenosine A2A Receptors in Parkinson's and Huntington's Disease" In: Blum D, Lopes LV, eds., "Adenosine Receptors in Neurodegenerative Diseases", San Diego: Academic Press, 2017: 188-214.

Adenosine A2A receptors: Localization and Function.

Simola N. and WARDAS J.: Adenosine A2A receptors: Localization and Function. (chapter 1)

In: "The Adenosinergic System. A non-dopaminergic target in Parkinson's disease" Eds. Morelli M, Simola N., Wardas J. Springer International Publishing Switzerland, 2015, pp. 1-25; Current Topics in Neurotoxicity, vol. 10 (Series Eds. Kostrzewa R., Archer T.).
Grant NCN OPUS 6 "Jądra motoryczne wzgórza jako potencjalny punkt uchwytu terapeutycznego działania adenozyny w tremorze parkinsonowskim i samoistnym; badania behawioralne, neurochemiczne i molekularne u szczurów " - 2014-08-21 - 2018-08-20


Tremor samoistny (ET) i tremor w chorobie Parkinsona (PD) są stosunkowo często występującymi zaburzeniami neurologicznymi u ludzi. Ponieważ mechanizmy odpowiedzialne za te oba typy tremoru są jedynie słabo poznane, terapie farmakologiczne stosowane w chwili obecnej są w wysokim stopniu niezadowalające. Dlatego też istnieje pilna potrzeba badania powyższych mechanizmów, aby móc później poszukiwać skutecznych terapii tych zaburzeń. Motoryczne jądra brzusznego wzgórza wydają się być niezwykle istotne dla integrowania i przekazywania neuronalnych impulsów związanych zarówno z tremorem w PD, jak i ET. W obszarze tym dochodzi do konwergencji impulsów związanych z glutaminianergiczną projekcją z móżdżku i GABAergiczną ze zwojów podstawy. Obecny projekt jest poświęcony zbadaniu, czy adenozyna i jej receptory mogą być celem dla przyszłej farmakoterapii ET i tremoru w PD. Ponieważ receptory adenozynowe (A1 i A2A) są obecne w sieciach neuronalnych brzusznych jąder wzgórza, projekt jest skoncentrowany na zbadaniu modulującej roli ligandów tych receptorów w zwierzęcych modelach obu typów tremoru, oraz określenie udziału w niej szlaku móżdżkowo-wzgórzowego i szlaku prowadzącego ze zwojów podstawy do wzgórza.
Międzynarodowa
Dept. of Biomedical Sciences Section of Neuropsychopharmacology, University of Cagliari, Italy
Zainteresowania badawcze
Techniki badawcze