Dr hab. Jacek Wójcikowski has passed away
---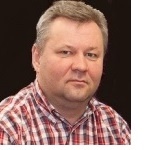 It is with deep sadness that we announce the passing of our friend and coworker dr hab. Jacek Wójcikowski.

Jacek Wójcikowski graduated from the Faculty of Biology at the Pedagogical University of Kraków. Most of his career was associated with the Institute of Pharmacology Polish Academy of Sciences in Kraków. He was a senior researcher at the Department of Pharmacokinetics and Drug Metabolism, a member of the Institute Scientific Council, an active member of the Editorial Board of Pharmacological Reports and a member of the Polish Pharmacological Society. He was an author of numerous valuable scientific publications in the field of pharmacology of the nervous system and pharmacokinetics of psychotropic drugs and a laureate of several prestigious scientific awards. He was also involved in education of young scientists.
It is with profound sadness that we say goodbye to an experienced pharmacologist, our unforgettable colleague devoted to science and the Institute.
We express our sincere sympathy to the family of the deceased.
The Institute of Pharmacology PAS: Directors, Scientific Council, Colleagues